Tuhuroa, as the Maori call it, is New Zealands longest sandspit, forming the northern side of Golden Bay with a 26 km long sandy rim (above water, and another 6 km below sealevel). The white-golden sands are mostly composed of quartz sandstone (that also form the cliffs in the west where it erodes from), the sea currents then create wonderful ripples and dunes and carry the crystals even further east onto a growing spit. The name goes back to James Cook, who left from here on his first journey back to Australia. Two ships stranded here in the last two hundred years and now and then some whales as well, last this November.
What we did there: The hilltop walk over the Old Man Range to Pillow Rock and back at the Tasman Sea side of the spit, crossing the dunes after some kilometres and returning to the parking lot on the inner side of the spit. A great walk, but 2 litres of water are not enough for 2 adults and 2 kids, as it turned out. The kids were always having fun though, while we grown ups really got the creeps when the dunes wouldn't end anymore (you feel like stuck in a desert even when you know you're not). If we come back to this place, it will better be at high tide, too (low water levels can really stink, don't they)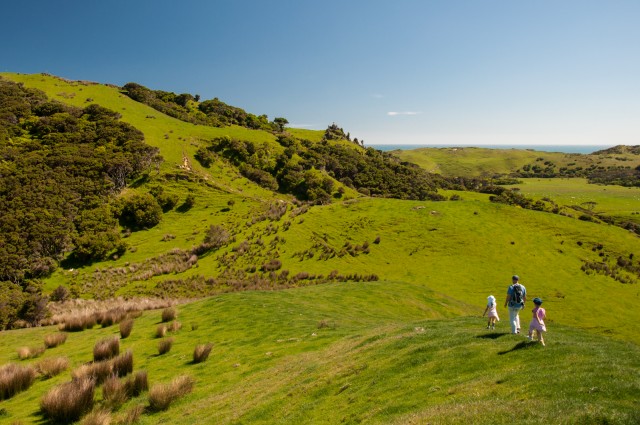 The first hill of the "Hilltop walk", fun for Anna, quite an achievement for Verena :)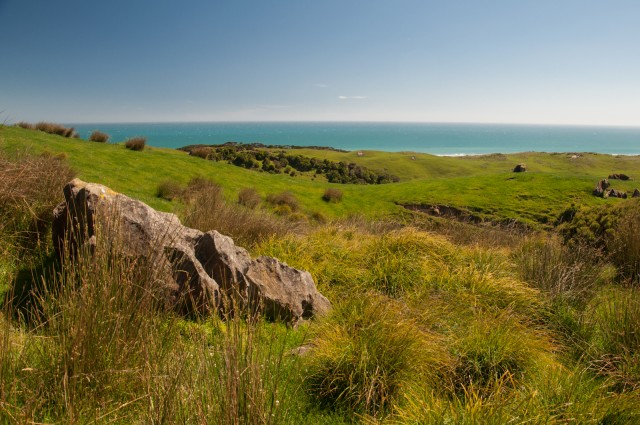 After several of these little hills finally a nice lookout to Tasman Sea.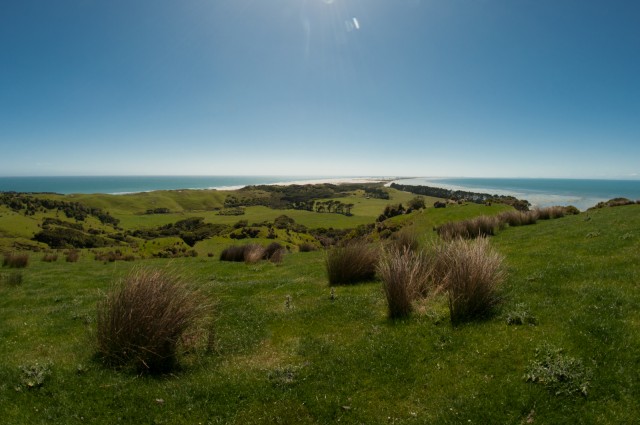 And the very first of many Farewell Spit photographs.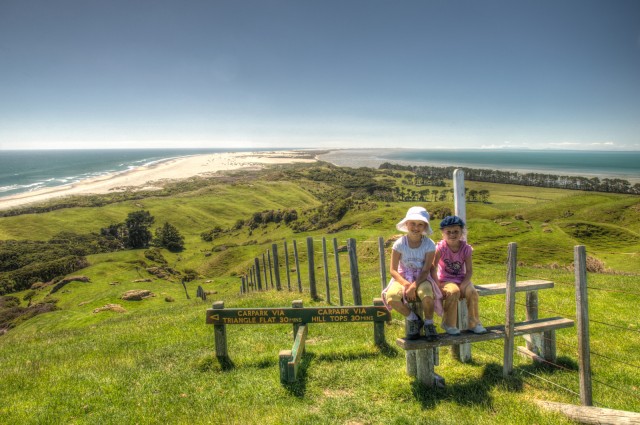 Like this one, with the kids on a cowstop.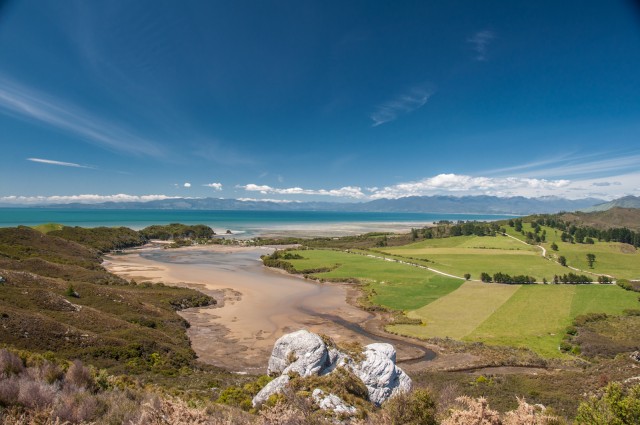 One look back to Golden Bay (on our way to Pillow Point)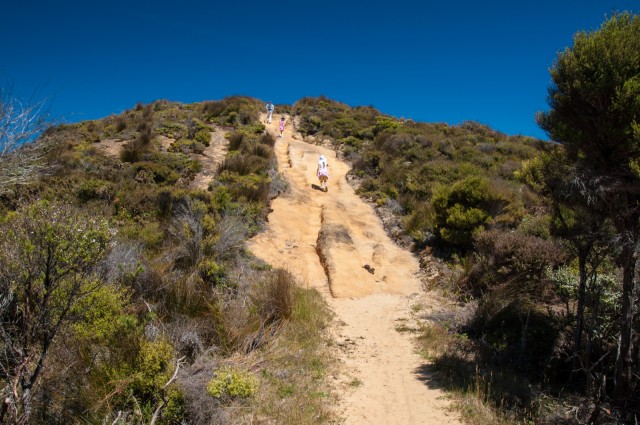 Up and down and up and …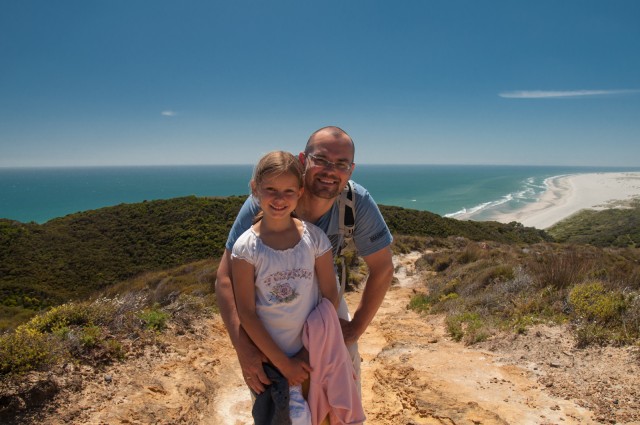 … one more picture.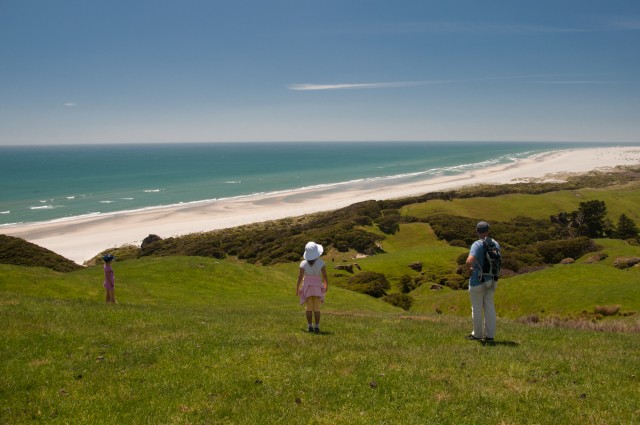 Descent to the beach.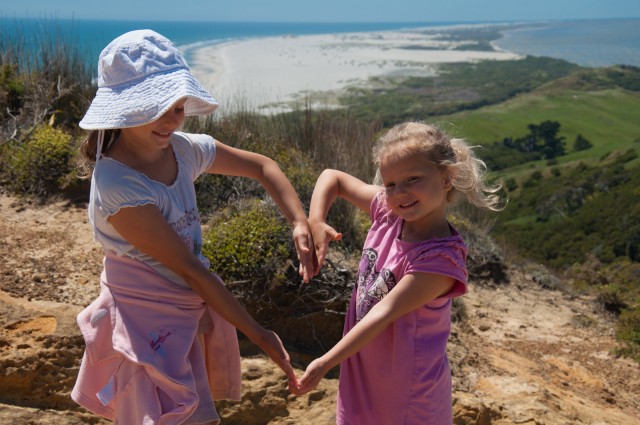 Love from NZ!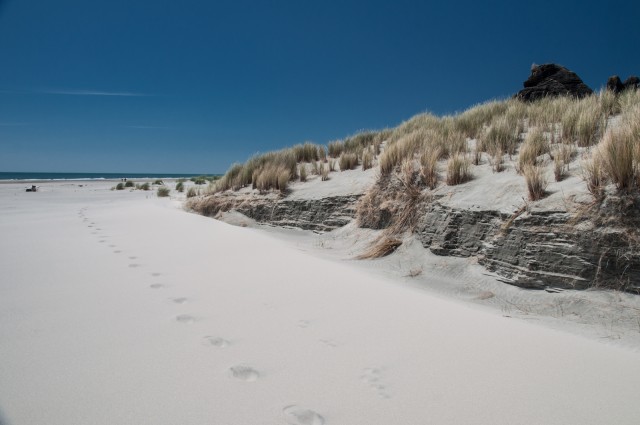 Fairly white sand there – from Fossil Point north.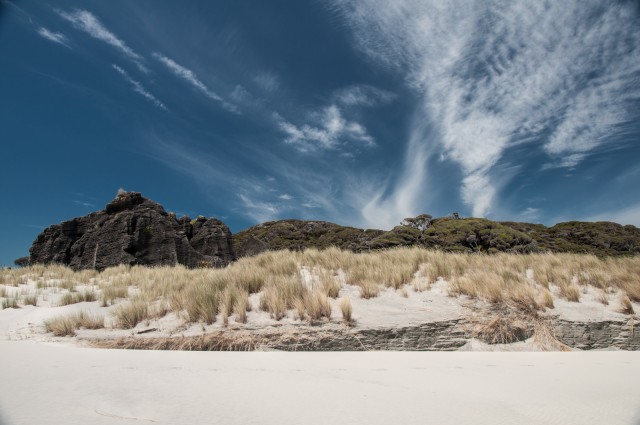 Through the hot white sand, past the dunes and the tussoks, the kids losing their shoes and clothes as they walk (and me to carry the whole stuff).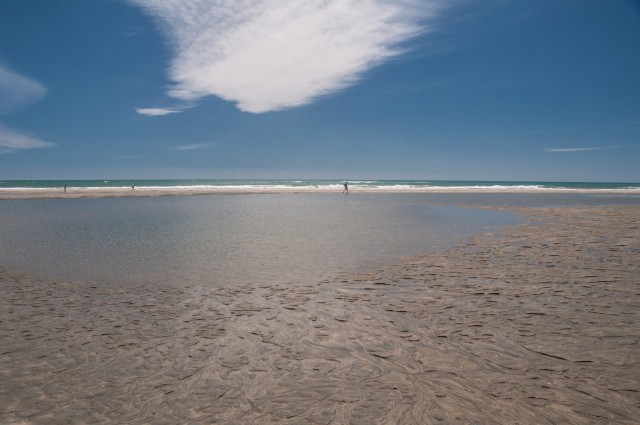 Looking for wet feet to keep cool.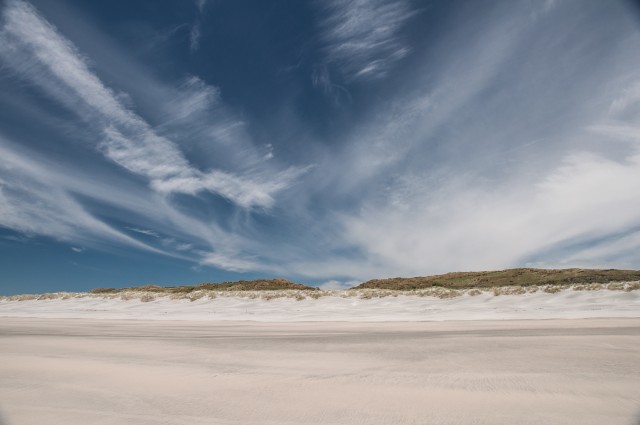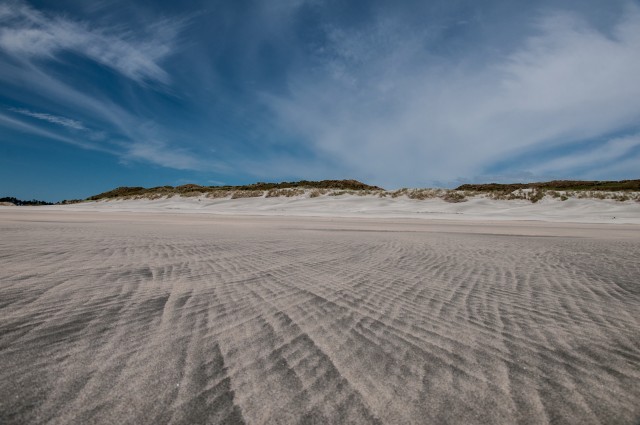 And suddenly the sand gets a darker shade to it.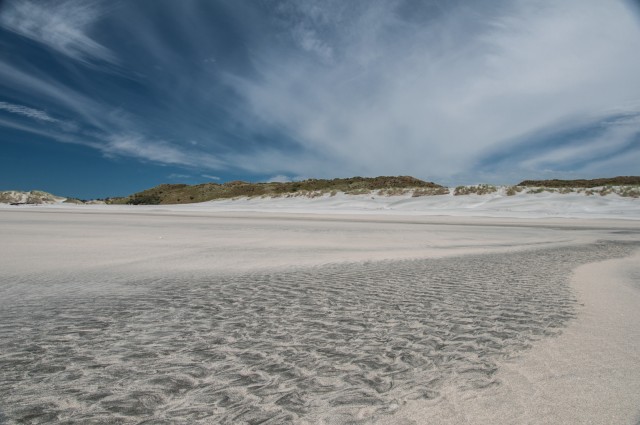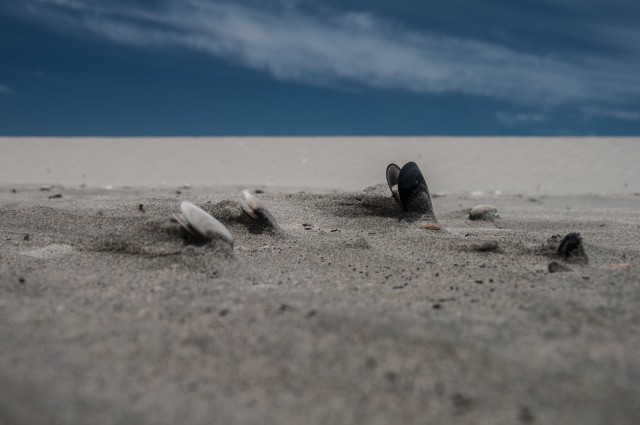 Mussels, stuck in the sand with sandy veils behind them.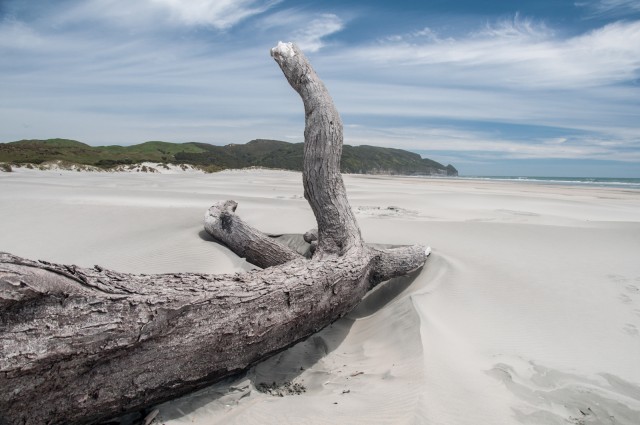 Driftwood.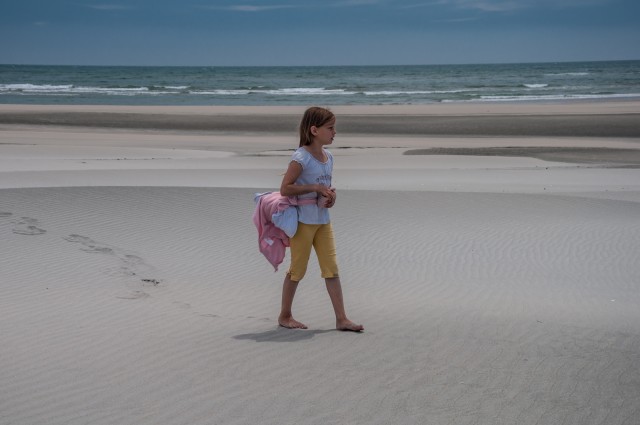 Anna, tramping.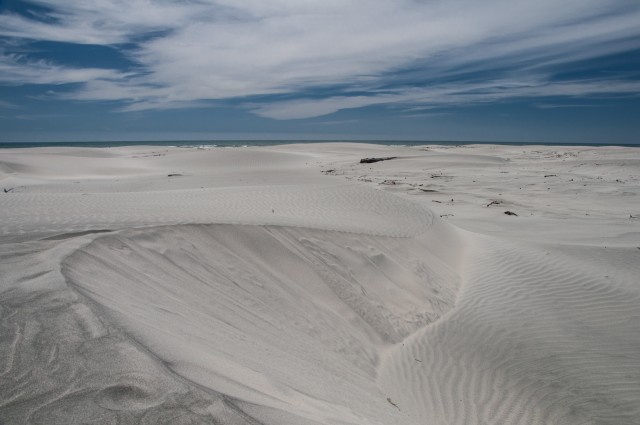 Beautiful dunes like in the Gobi Desert.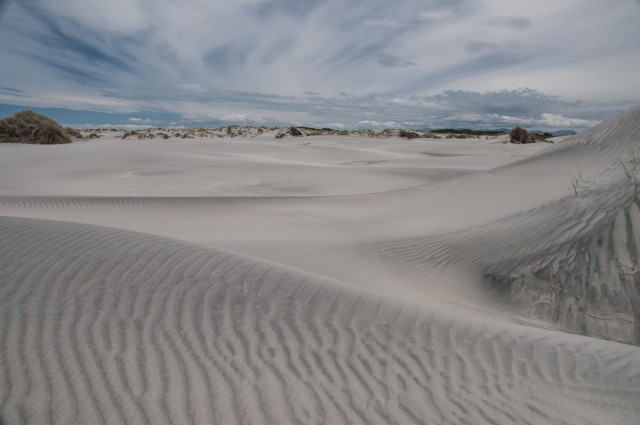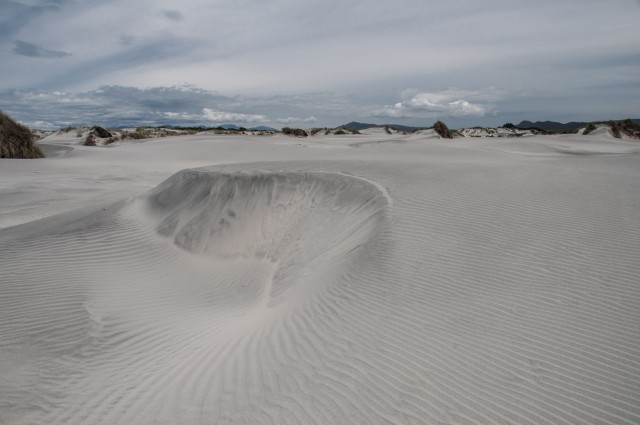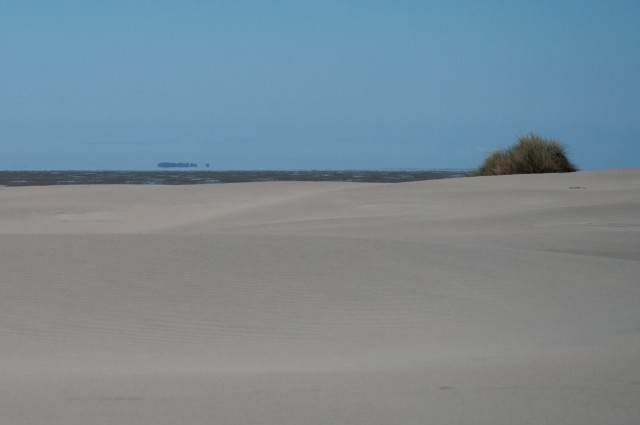 Is it a Fata Morgana? … No, just hot air and trees in the far away middle of Farewell Spit.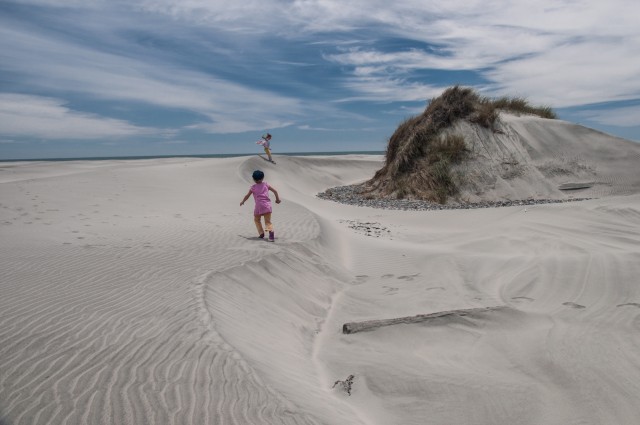 The kids have fun still.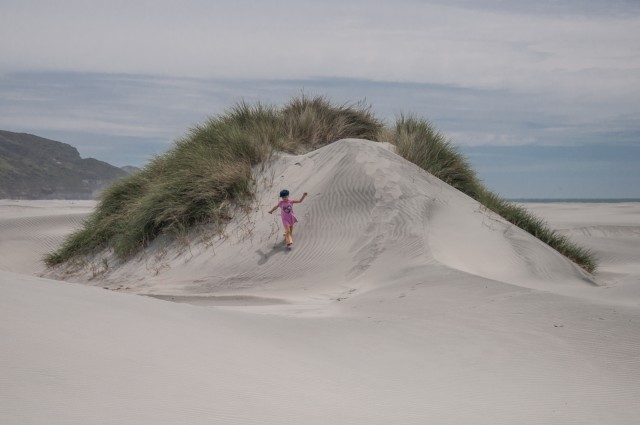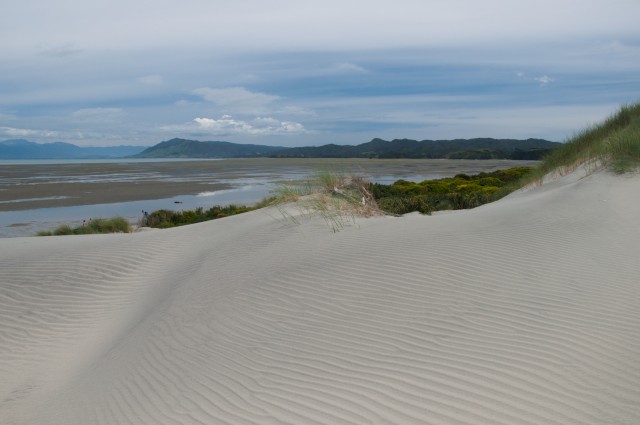 We did it! And really felt relieved to reach the inner border of the spit. At low tide, though.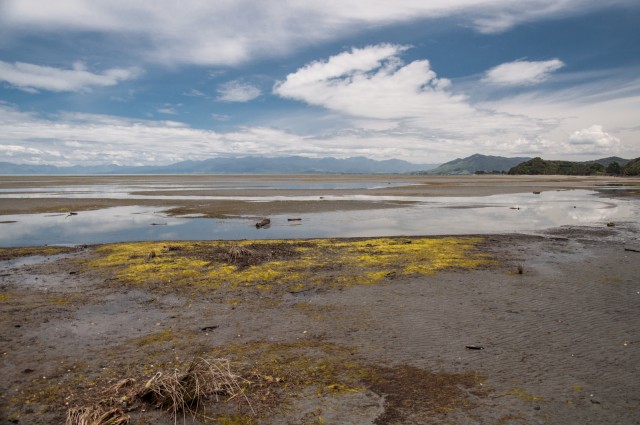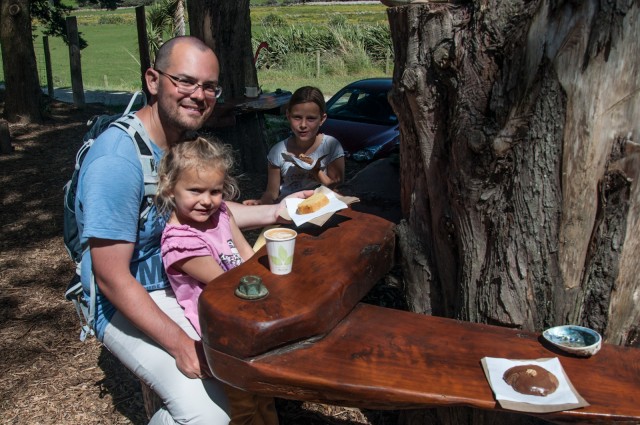 Man, we really needed some chocolate, scones and coffee back at the camping site.