Te Paki mosaic
From here you can see three major elements in the mosaic of Te Paki's landscape – hills, dunes and wetlands. The hills are millions of years old, pushed up by movements in the earth's crust. Grassland reveals their rugged underlying form. The sand dunes, by comparison, are young and shifty, kept on the move by the wind. The wetlands are part of both stories – they form where sand has piled up in the valleys, damming the waterways from the hills.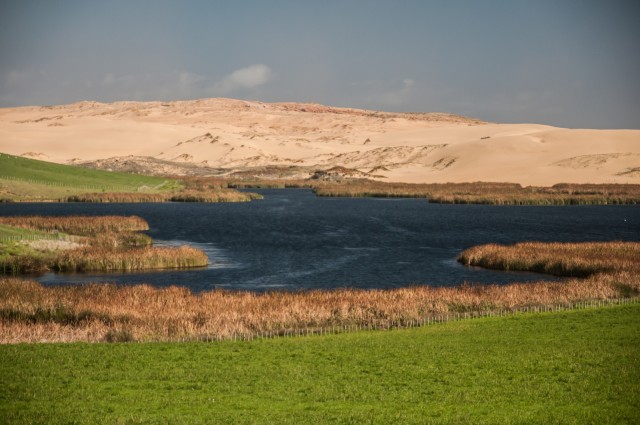 Riding the Dunes
Sandboard under the arm or on your head, we're walking up the dunes. Sweat runs down our spines while the sun constantly boils down.
And that's what you could hear if there were little speach balloons hoovering over our heads.
Do you have water? I'm thirsty.
Up! Up! Up! Faster, almost there.
Man, it's so steep.
Don't stop with your feet, you'll burn them. Don't stop at all, let it flow.
Push! Go …
Scream! _darn_ ! Don't scream! Too much sand flies into your open mouth!