A sight we can always do again… the wow effect is consistant from the very first steeming pool down to the last very green steeming pool. The best thing here, however, is the smell that is associated with geothermal ares (hydrogen sulphide, like rotten eggs).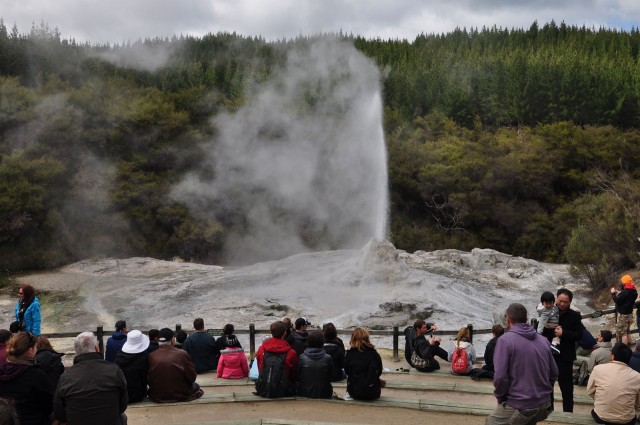 Lady Knox Geysir: Erupts every day at 10:15 due to a package of soap powder.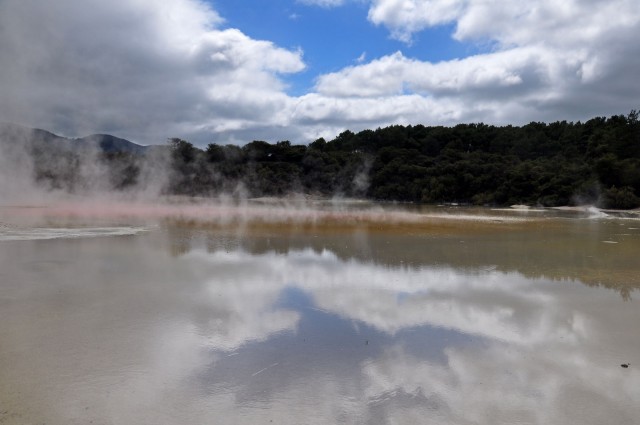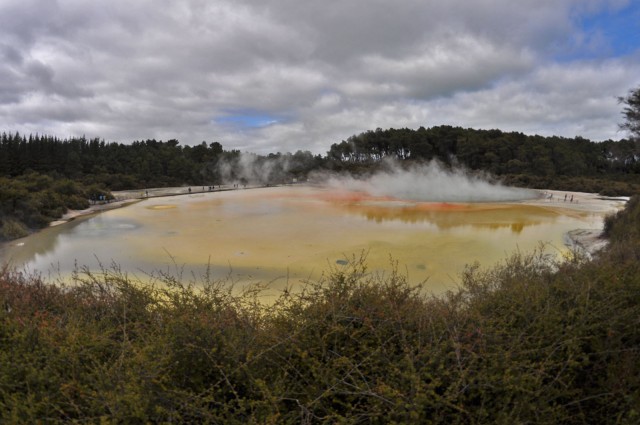 Artist's Palette: The colors in the pool are outstanding, they are all natural and due to different mineral elements:
green: colloidal sulphur/ferrous salts
orange: antimony
purple: manganese oxide
white: silicia
yellow-primrose: sulphur
red-brown: iron oxide
black: sulphur and carbon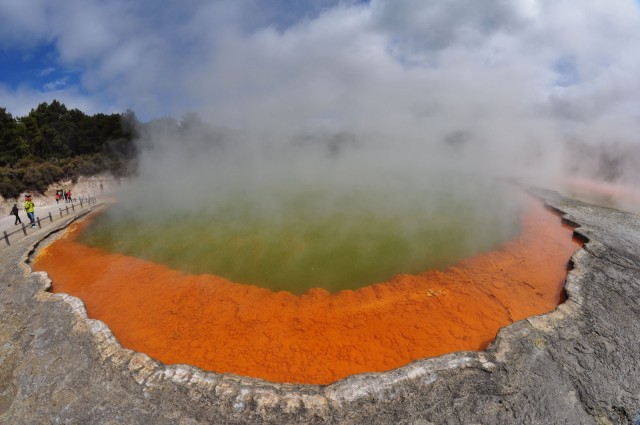 Champagne Pool: It's the largest spring in the district, being 65 in diameter and 62 m deep. Its surface temperature is 74°C and bubbles are due to carbon dioxide. The pool was formed 700 years ago by a hydrothermal eruption. Minerals contained in the water are gold, silver, mercury, sulphur, arsenic, thallium, antimony etc and are presently depositing in the surroundng sinter ledge (the orange colour originates from arsenic and antimony sulfides).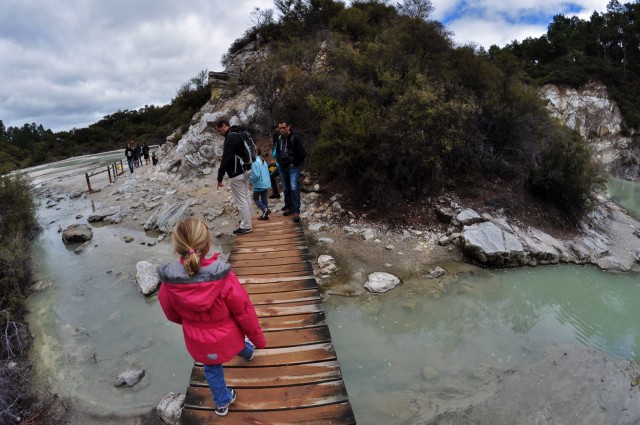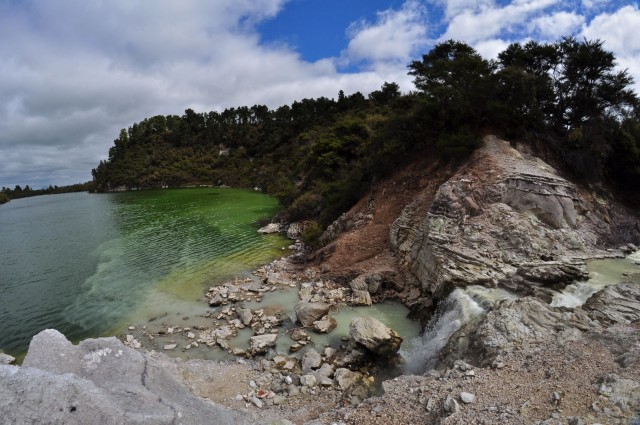 Lake Ngakoro Waterfall: Having taken the bush trail along the flats we were rewarded by the sight and sound of water tumbling over the rocks into the green waters of Lake Ngakoro (the Grandfather). From the lookout area above the falls the majority of the lake is visible which was formed after an eruption mor than 700 years ago. The rising steam indicates that the land is still thermally active.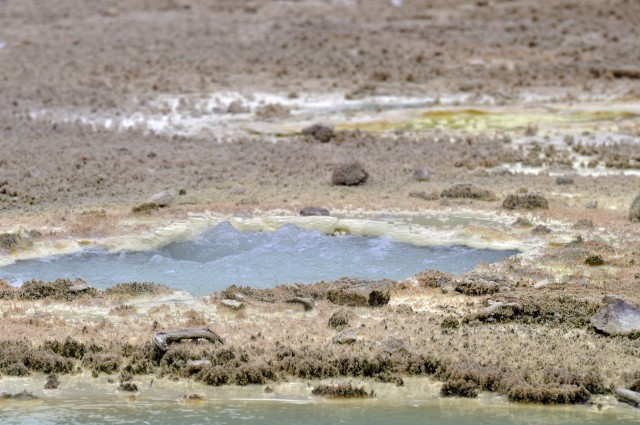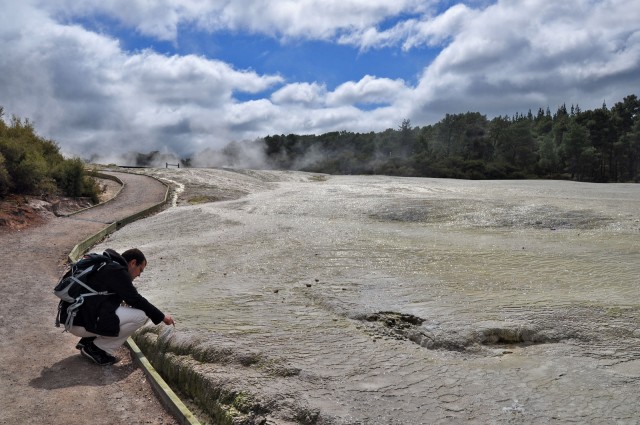 The Primrose Terrace: These sinter terraces are the largest in NZ since the destruction of the Pink and White Terraces in the eruption of Mt Tarawera 1886. The water from the Champagne Pool contains dissolved silicia which, as the water evaporates, is deposited as siliceous sinter.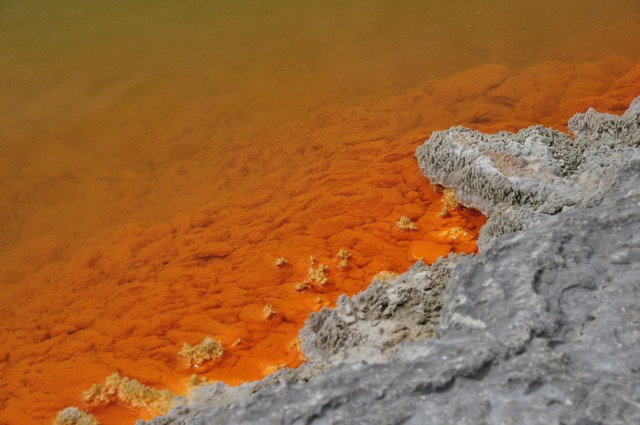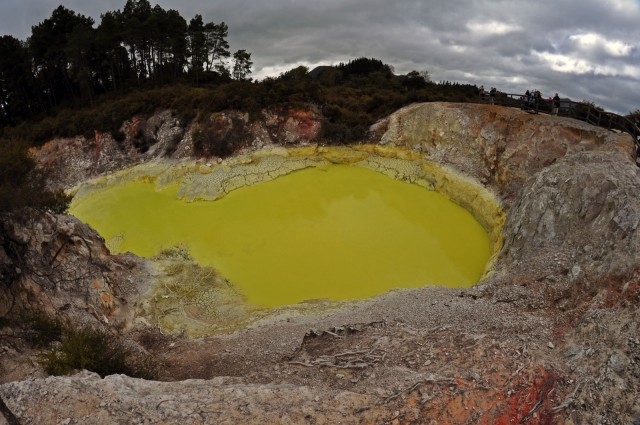 Devil's Bath: A large ruggedly-edged crater adjoining the bush line with an amazing natural water colour at its base which changes from green to yellow with the amount of reflected light and cloud cover.