Well, here we are, waiting for our Flight from Orlando to Frankfurt.
What a road trip! 10 weeks on the road!
Our GMC Yukon carried us 6,855 miles (or 11,032 kilometers) in total without any issues, apart from the 'oil change due' alert that greeted us every single time we started the car from day one. The rental company didn't seem to care too much about it though.
We have seen so many places, some of which we already visited 20 years ago. A few things have changed, but all-in-all the US still is what it was back then. I guess the only major disappointment was the city of San Francisco. We had it in our memory as a vibrant artsy city with a lot of flair, but this time it just showed us its ugly side of endless traffic jams in all directions that made way too many hours of our stay essentially go to waste.
On this road trip we had significantly more time to explore nature more in detail and we enjoyed that a lot. We spent a big chunk of our trip driving around in loops in Utah, our favorite state when it comes to beautiful places. (Not so much when it comes to weird law regarding the purchase of alcohol. We skipped that.)
We started our trip on October 1st which turned out to be the perfect time of the year. Gone were the massive crowds of people that fill up the national parks during summer peak season. But still warm enough for hikes. In fact, the temperature was perfect for the many desert areas. We just escaped the first winter snow storm on our last day in the Rockies when we visited the giant sand dunes on November 10th. From there we went South, back to the warmer sunbelt zone. Once we made it to the gulf coast we were mostly back to summer temperatures and on our last day in Florida on December 8th we were sweating just like we did every day in Hawaii earlier this year, haha.
The US are so incredibly diverse – culturally and landscape wise. It's definitely worth a visit, even though there is no escape from gaining a few extra pounds with the omnipresent fast food culture. The country offers to much more than questionable politics that keep us entertained through the news media. Outside the big cities we experienced only friendly people who are certainly more talkative with foreigners than the average stiff Central European folk.
Here is a map of our journey, with stops and highlights marked.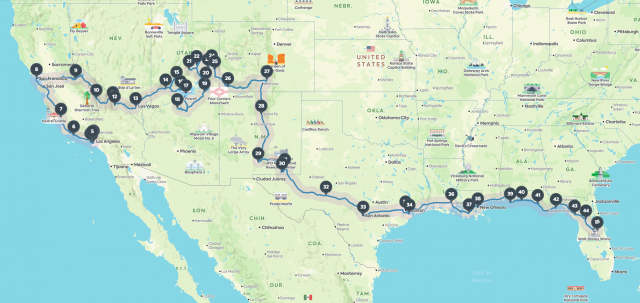 Highlights
1: Los Angeles: Hollywood Sign, Walk of Fame, Santa Monica Pier, Universal Studios.
8: San Francisco: Alcatraz, Hayward
9: Yosemite National Park: Day 2, Tuolumne Grove, Tioga Pass
10: Lone Pine: Alabama Hills, Owens Lake
11: Death Valley: Dante's View
13: Las Vegas: Valley of Fire
15: Bryce Canyon, On the road, Kanab Sand Caves
16: The Toadstools
17: Horseshoe Bend, Glen Canyon Dam and Hanging Gardens
18: Grand Canyon
19: Monument Valley
20: Moki Dugway, Natural Bridges National Monument
21: Hanksville, Capitol Reef National Park, Bentonite Hills, Fremont River
23: Canyonlands National Park: Dead Horse Point State Park
24: Arches National Park, Corona Arch
27: Colorado Rockies, Great Sand Dunes National Park
28: Santa Fe
30: Carlsbad Caverns National Park, Living Desert
33: Texas: San Antonio
34: Houston: NASA Space Center
36: Lafayette
38: New Orleans: French Quarter, St Claude, Houma
39: Gulf Shores: Fort Morgan
40: Navarre Beach: Pensacola, Opal Beach, St Andrews State Park
43: Ocala: On the road, Manatee Springs State Park
Memorable moments
(or whatever flies into your brain first when you hear the name) for each state we drove through.
California
V: LA, because it was so exciting and not cold and windy.
C: Weed everywhere. Not a single car ride or walk without being exposed to the sweet smell coming from cars and pedestrians around, no matter the time of the day. It changed my view on legalization attempts in our home country. Definitely not supporting it anymore!
E: Love cities but LA and San Francisco were so overpowering especially in the driver's seat, I guess the most memorable moments were those in the wilderness of Yosemite and the vastness of Death Valley.
Nevada
V: LAS VEGAS, so colorful and exciting and rollercoaster!!!
C: Casinos everywhere. The state is pretty much defined through its casinos. Somewhat exciting to view once, but also deeply sad in way.
E: Our rental's number plate was from Nevada and it drove us from West to East Coast without troubles! Thanks GMC.
Arizona
V: Grand Canyon, sooo big, much bigger than I could have ever imagined.
C: Divided by the huge gap in the ground. Just wow.
E: Monument Valley.
Utah
V: Arches, omg I love that place, so many beautiful red arches, bridges, stones and stuff.
C: Plenty of red rocks. Favourite state. Could spend hours and hours on any road without ever getting bored.
E: The Grand Staircase, the immense sequence of sedimentary rock layers that stretch from Bryce through Zion to Grand Canyon.
Colorado
V: Great Sand Dunes, crunching away on sand, sand everywhere, eyes, mouth, teeth lol.
C: Beautiful barns and a big pile of sand.
E: Such a relief to see some green after the red rock states.
New Mexico
V: White Sand Dunes, they look like snow in winter but warm.
C: Adobe! Consistent building style across the entire city of Santa Fe. So beautiful!
E: Santa Fe, definitely a city I would like. Pink Martini – No hay problema.
Texas
V: I saw the biggest rocket in my life.
C: Stinky oil fields and large faceless cities (sorry, Texas!).
E: There's stretches of land where you should just drive through as fast as you can. Good moments: The Nasa Space Center, an inspiring place, especially the "talk with an astronaut" experience.
Louisiana
V: New Orleans, so cool, I like the old houses and the music.
C: Artsy vibes and friendly people. The French created lots of beautiful places here.
E: Voodoo!
Alabama
V: Gulf Shores, soooo pretty! Right next to the water.
C: Condo towers right on the beach, shading everything that's behind. Very poor and ignorant city planning, allowing a few individuals to take advantage on the cost of everyone else. I consider those beaches lost spaces – sad.
E: Welcome to the Gulf Coast!
Mississippi
V: We stopped in Mississippi?
C: Short, flat intermezzo on the road.
E: We saw the Mississippi river in Louisiana, if that helps.
Florida
V: 5 Days on the beach and relaxing before the long flight.
C: White sand beaches and alligators. I can see why Florida is the retirement state for Americans, lol.
E: Now I do understand why everybody is crazy about Florida, that white sand is unreal.